Views
LUDUM DARE 43 - JAM GAME
Description
Don't let them Block Your Outstanding views of the Beach! Sacrifice people living or planning to live in front of you and avoid these buildings from rising too high.
We were only able to jam for 8 hours each day over the 3 days, so we had about 24 hours total time to make this game. We're happy with the result though!
Can anyone get over 10K SCORE? Post a screenshot in the comments if you do!
VOTE FOR US HERE: https://ldjam.com/events/ludum-dare/43/views

Technology
Unity 3D
Credits
Arnau (@arnau) - Game Designer
Brandy (@brandy) - Artist
Mmolinat (@mmolinat) - Programmer
Joan Ginard (@johnnyginard) - Programmer
Comments
Log in with itch.io to leave a comment.
I did 14K! hehe :P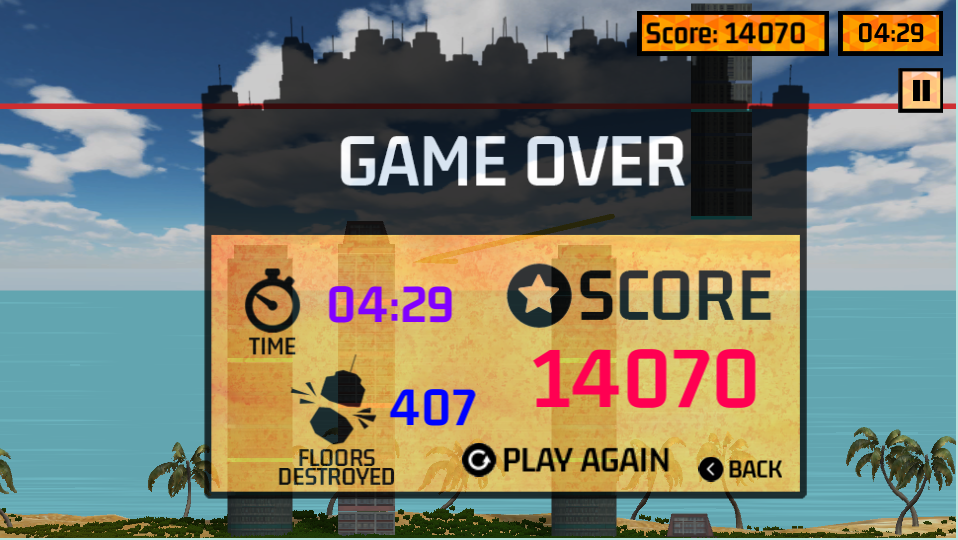 Jesus I did 1.4K and thought that was a desent score lol
Hey, not bad for the first tries! I must say... I actually cheated a bit cause I'm the developer! :P
Hints: Slice buildings vertically, slice the bottom parts and always USE the bomb when it's available! ^-^/